Sale!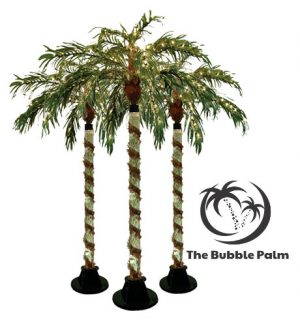 The Bubble Palm
$470.00
All the great features that you have come to love from The Bubble Tree are now available in The Bubble Palm.  It has never been easier to create your own tropical paradise.  Great for displays and parties and is very easy to transport from one location to another.
Out of stock
Description
Lights on Foliage: 100 clear mini-lights.
Height: 7.0 Feet
Tree Girth At Top: approx 5 feet
Tree Stand Width: 13.75 inches
Foliage: Green
Tube: Clear Acrylic
Bubbling trunk is illuminated by color changing L.E.D. Lights.

Trunk can stay on one color or rotate between a wide range of colors.

Warm White, Red ,Green, Blue, Purple, Lime, and Aqua L.E.D.'S in base of tree.
Tree consists of only three pieces to set up: Stand, Trunk, and Foliage.
No additional stand is required.
Foliage is pre-lit with removable, industry standard lights.
The tree lights and bubbling mechanism are powered by safe, low voltage electronics.
Amount of bubbles ascending the tree trunk can be adjusted.
During Setup, customer is required to add 2 gallons of water. Distilled Water is recommended.
There is a drain tube behind the access panel in the base to allow easy water removal and disassembly.